Drowning on and on...
Friday, May 27, 2005
Add drop week is over, so is the first week of school.
It's been okay so far, nothing major...
School's a bit boring, look at what I'm studying!
Properties of Materials and Environmental Technology.
Even the subject titles sound boring...
Sheesh..
I'm suffering from withdrawal symtoms.
I miss the people who I have grown close (in my opinion anyway) in 2 months to the people I have known for 2 semesters...
However, I'm starting my paranoia thing again...
I'm starting to think people don't trust me again.
I don't know, but I've been feeling very nervous lately.
Butterflies in my stomach and all.
What's wrong with me?
Down in the dumps again...
Wish my self-esteem was higher, but I guess it'll never be where I want it to be...
Leave a comment and refute me..
Monday, May 23, 2005
Part of the Main Comm :: Extremely high after not sleeping well for about a week...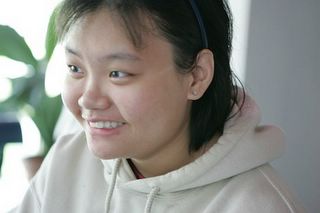 I really like this picture, nicest that anyone has taken of me.. hehee.. Taken by Jonathan...

In Remembrance
Sunday, May 22, 2005
Days of sacrifice, with countless meetings and sometimes filled with arguements stemming from frustration has come to a closure with the end of Design Orientation Camp Refresh 2005.
I really miss those times I've spent with people who were strangers on the first day of Main Comm meeting to closest friends in a span of 1 to 2 months. There was nothing I couldn't share with them, my worries, my paranoia and my problems. Also, my love for cakes was shared.. hehe.. They have, maybe unknowingly, increased my confidence and trusted me enough to make my own desisions on many occasions. Help was always on hand when I needed in, in terms of proposals and corrections. Just want to mention each one of you by name here. Stanley, Justin, Jinghui, Beatrice, Ingrid, Dana, Gillian, Faridah, Jonathan, Alex, and RenXiang. There are many things that you all have done that I'll be forever grateful for.
Camp Refresh was filled with days that were very busy to days that were very slack. I think I speak for everyone when I say it was an enjoyable period. There were high moments when the Freshmen started to bond with their groups. With the high, always comes the lows. With all honesty, we weren't prepared for rain. Some of them were complaining. But we learn, for future events. Just want to let the Freshmen know, that we didn't charge you for anything, not even the shirts, therefore we couldn't absorb the cost of entry into Sentosa. Budget was tight.
The amount of people that I've met during this Orientation surpasses the number of people I know in the school. Many of them I have never seen before as they were in different courses. I'm so glad to have met many of them, thus increasing my social circle. People, again, that I will remember, hopefully for the rest of time. I'd like to name names if I'm allowed. Jason, Abel, Siyuan, Wei Shan, Katherine, Dawn, Joyce, Royston, Priselia, Sarah, Pricilla, Adrian, Kenneth, Jia Wei, Chris, Christine, and more. I'll run out of space if I name everyone but yeah, I know who you are and hopefully you know too.
This is one time of my life I look back on and realise that all my sacrifices were worth it for the experience to be with amazing people with amazing abilities. Things like this always put a smile on my face when I look back and reflect on what was done during this period. Like to say thank you from the bottom of my heart to everyone who made this a success.
I love you all.
Orientation AY 2005/2006
Wednesday, May 18, 2005
Haven't posted anything for awhile.
Been pretty busy lately, with paperwork and a lot of administration duties.
Orientation's been on for roughly 2 days and I'm really really tired.
When I reach home on Friday night, I'm sooooo going to knock out.
Not only me, the rest of the committee members also...
ZZZzzzZZZ...
Seriously speaking, hopefully nothing goes wrong with my admin side.
I pray that no infomation goes missing and what not.
Oh well.. Temperature pretty low.. Cold.. haha..
The freshies are so so ''on'', they cheer so much, it energizes them.
Final Clash trophy is ours to win!
Day 2 of DOT
Friday, May 13, 2005
I better make this quick.
Here we are at the swimming complex, waiting for the rafting competition to start.
How fun, blogging at the swimming complex.
Jason wants the PowerBook and it's running out of battery.
Yesterday went by quite slowly because groups were out getting materials for their rafts.
So bored and caught some much needed winks.
In the end, because of miscommunications, rafting was posponed to today.
Then at night, Moses had his talk or something.
Not really a talk, but more of a session on thinking and getting to know each other better.
Slept only at 3 plus...
Not enough sleep!!! Argh...
Okay, better pass this to Jason...
More about Day 3 tonight or something.. Byeee
Day one of DOT
Thursday, May 12, 2005
The morale of the team is not bad.
Quite good actually, GLs pretty enthusiastic, programme comm is amazing.
Especially the Jacky(s), Twiddle-dee and Twiddle-dum.
So cute.
The day went alright, for me personally.
Until we reached Sentosa.
I had a bloody bad fall.
Abrasion and cuts on my knees, a cut on my upper lip and scraps on my chin. Have a stinging sensation now.. Ouch!
Was my fault actually, ran and fell.
Didn't realise I was falling until I felt that my legs weren't on the floor.
I will not put a photo of me with the cuts and all to prevent horror reactions or whatsoever.
Can't do any activites now except for my administrative, attendance stuff..
Sigh... silly me, why did I run??
But thanks to all who dressed my wound, Renxiang, Stan and Anny. And also to the Baywatch-y people like Jason, Justin and Abel. For the last time, I'm injured but not as bad as to name me a casualty!! haha..
Shout outs to all the GLs and Programme comm, thank you for being 'enthu' and lets make this Orientation the best one yet!!!
At command post
Wednesday, May 11, 2005
Main Comm, Logistics and Creative are here in #03-46.
The Main Command Post, also the sleeping quarters for the Main Comm.
Everyone's just slacking around actually.
Waiting for everyone to be present before Stan starts his briefing or something like that.
Oh well, I wanna play Cluedo.. haha.. that's out of the topic.
We still haven't finish calling the freshies...
off for lunch now.. CIAO..
Note to Charlene: I don't know to attach a tag board! that's why I don't have one...
Just woke up..
Saturday, May 07, 2005
What a glorius Saturday it was.
Surrounded by the sand and sea and also the wind.
What more could you ask for?
Of course, friends who mean a lot to me were there along side me.
A few thank yous I'd like to do right here.
To Jinghui: Thanks for always being someone I can always talk to without fear or reprisal. Thanks for being there when I was scared, especially in Sentosa. Thank you for helping me with the calling and groupings of Freshmen.
To Dana: Thank you for the reassuring hand when we were in Sentosa yesterday. Also thanks for helping to call all the Freshmen. Thank you for all the comic antics as well.
To Justin: Thank you for always being the first man, making sure of the routes and also of our safety. Thanks for carry my Nalgene yesterday though you had one in your bag already. Thank you for being the Logistics head.. : )
To Pops: Thank you for being the chairman. Your leadership is not screwed so don't worry. Thanks for being the last man, though somehow you always end up in the middle. Thanks for reassuring me when I was scared at Sentosa.
To Gillian: I'm so happy that I got to know you. Thank you for being a friend and also for all the comical antics you provided this morning after we woke up. Thanks also for the reassurance you've given me.
I LOVE YOU ALL!!!
Hello, Not Dead Yet..
Thursday, May 05, 2005
I'm not dead yet.. Kidding, the last time I wrote was on Monday.
Hi Everyone at the Main Comm Meeting now..
There's Jinghui (who'se beside me), Dana (who's running around), Pops (who's thinking hard), Ingrid and Beatrice (who's looking at the comp, playing Bubble Bee), Renxiang (who's thinking about shirt colours) and Jon (who's on the phone)..
All are almost mad about shirt colours, just can't think of any nice combination for our orientation shirt.
Any suggestions, leave a comment.. Thanks!
From Beatrice: sigh... white won't do, navy blue won't do, black won't do, red won't do, purple won't do... i 'm quite keen on maroon or brown or khaki... but grey is too dull. lime green is too blinding. using a combination of green and pink will make us look like the botanical gardens. overall, we need a combination of two colours which, with their contrast, creates this feeling of 'fresh'. maroooooon is the way to go, i say! dana is looking through a magazine for favourable 'retro-like' colour combinations. So yah. everybody so 'stressed' over the colours of the t-shirt now, and we have, what, 2 tshirts? anyway, i'm dying of thirst and hunger... no eat is ok, i just need to go get something to drink - badly... BEATRICE OUT!
Okay, I'm out as well.. haha... Need to think about shirt colours.. Ciao... Write later..
So funnn. recap of yesterdayyy
Tuesday, May 03, 2005
*sings Yesterday by Lennon/McCartney*
Yesterday, all my troubles seemed so far away
Now it looks as though they're here to stay
Oh, I believe in yesterday.
Nope, just kidding,
Life's pretty nice now, except for the fact of countless of Main Comm meetings.
Not saying that meeting with them is not nice, as I said before, I love them..
Had a meeting in Centrepoint's McDonald's in full view of everybody.
Creative's amazing, coolio designs..
This can't be said of programme I think..
Tensions ran high, when the head insisted that we can't plan a camp in 2 days.
Thank God for Gillian and her brillance.. Woo Hoo!
Slacked around with Jinghui, Gillian, Justin and Pops..
Laming around after that.
Went to Jinghui's place after that. Watched Veggietales and Fantasia..
So fun.. haha...
Talked about a lot of stuff, in sight's into our daily lives and things that are going on now.
I love Mark's and Spencer's in Centrepoint.. I wanna go to England to see Harrod's and Mark's and Spencer's.. hehe
Idiotic Me
Sunday, May 01, 2005
Feel like an idiot now.
A very useless person.
I hope none of them are holding it against me.
Read Justin's blog entry about recce.
Still wished I stayed and be part of them.
Missed the bonding session.
Stupid me.
Someone should just take a bamboo pole and strike me on the head.
Why did I let my nerves take over me? And miss bonding with them?
I like the whole EXCOs, and at first I thought I'll be an odd one because all were friends already when I entered exco.
But I made friends and close ones indeed like Jinghui.
She never fails to encourage me. Thanks be to God who put you in my life. I'll be eternally greatful.
*maybe it's just a repeat of what I wrote in the early morning, but I needed an outlet to let out what I'm feeling..*
Jinghui :: Dana :: Me At Sentosa..

Day with Excos
Scared of heights..
Scared of the unknown..
Scared of the things unseen..
Scared of the dark..
Sooner or later , I'm going to be scared of the things that are seen and of myself..
I think I'm really damn useless.
Day started of with a meeting with Moses (director of Design), Vani, Slyvia, Siyuan and Pops.
Justin joined us later.
Discussion was very interesting..
Headed down to HarbourFront with Pops, Justin and Siyuan.
Slacked around at the food court, where I fell asleep.
Dana and Jinghui came later.
Only entered Sentosa at round 7pm.
Trekked around Jungle Trail while I stayed at the beach.
I joined them when they said they found a route that was interesting.
It was dark and I was scared (I'm not afraid to say it.)
I was happy when we came out.
Only to find a path that led to an abandon house.
Dana stayed with me when I said I wasn't going on that path.
I think I annoyed her when I started whining about how long they were taking.
Thanks for being patient with me and for talking to me to keep my mind of things..
To all the EXCOs who were there; Pops, Justin, Dana, Jinghui and Siyuan (logistics vice-head): Sorry for disrupting your recce halfway. It's my fault that you haven't found another 'ulu' spot like the ones near Palawan. Thank you for being with me and for not teasing me about being scared and stuff like that. Blessed to have known all of you... Cheers mates! and Cheers Jinghui! (just wanted to mention you.. haha) LOVE YA ALL!!