Hah. My 300th Blog Post.
Monday, October 29, 2007
Here's my 300th blog post. Good morning! and here I am, about to write something about kids and their veggies. hur.
Don't know if you have heard, but Jerry Seinfield's wife has a cookbook on how to slip kids their veggies so that they will increase their intake of the green goodness. This means slipping in pureed veggies into sweets like brownies and stuff like that.
Number 1: Wah lau eh, you're spoiling the taste of sweets lor! It's comfort food you know?
Number 2: You're telling kids that sweets is good for them (which technically isn't, that's why you don't give it to them all the time.) But doing this will just increase their intake of sweets! Apparently, it's not all that effective as well.
Number 3: erm, I haven't thought of number 3 yet. Pureed veg? That's for babies. Oh oh, you're showing them that veg comes in pureed forms; they won't know the taste, smell, look of it if you keep liquidifying them. Just makes them stupider.
One thing I learnt from being a kid, a teenager and then a young adult. Take a page from my parents' book.
Don't force your kids to eat their veg. Because in time they will. Even if it comes ten years later, they will eat enough for a lifetime, or at least make up the time they lost not eating them when they were kids.
Weekends.
It's been about a week since I bought my bag. Guess what?! I still love it, as in I really really love it! Carrying it still makes me excited, much like a child given a new toy. haha.
And I made lunch the entire week. It's a feat you know, seeing how long it takes to make lunch at night. I still eat school lunches when I want a hot meal, but most of the time I rather bring it. Though it's time consuming, I love what I make.
Kayi gave me a bar of chocies on Friday, big bar of Turkish Delight. Yum! Thanks!
Fred's
Sunday, October 21, 2007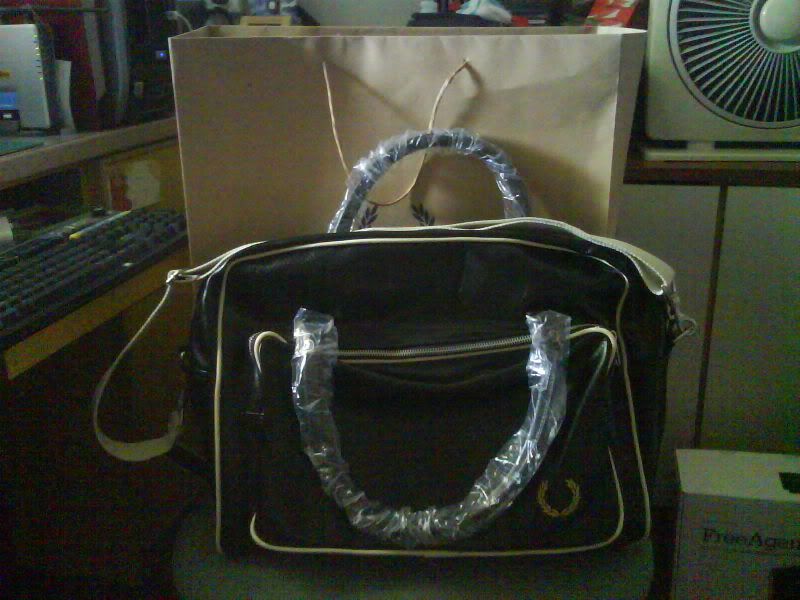 After whining to a few people this week about wanting the Fred Perry bag, I finally bought it yesterday. Whee. I'm damn happy now.
一分啤酒
Thursday, October 18, 2007
Let me tell you something. Carrying 2 bowling balls home with no tote bag or a trolley is not fun. Especially when it weighs 14 pounds each and you have to walk home. I decided not to bring the trolley to school and now I have very aching arms because I carried one in a carrier on my right, and one under my left arm.
\Safra resort is a nice place to go to, but it's located at some obscure corner of the island. I bowled there last night for a friend's team known as One Cent Beer, due to the combination of 2 names (Infer(no) and (Colum)bia. So if you like translate the Infer = 一分= One Cent. eh get it?
I should have just "buang" last night. Now my handicap is 11pins, with the maximum being 30 for girls. Bleahhh. How to win now? How to winnn?!
Tuesday, October 16, 2007
I haven't been blogging much on blogspot anymore. Maybe because I found another blog hosting site with a more 'zen' template. haha.
But lookie! It's the Fred Perry bag I've been whining the last few days about. I saw it at the Laurel Store on Saturday at Ann Siang Road and been comtemplating since then whether or not I should get it. zzZZzzZZzz. Only problem is, it's a PVC bag. It's not even leather!
-edit-
I can't seem to post pictures. Gonna try again laterz.